---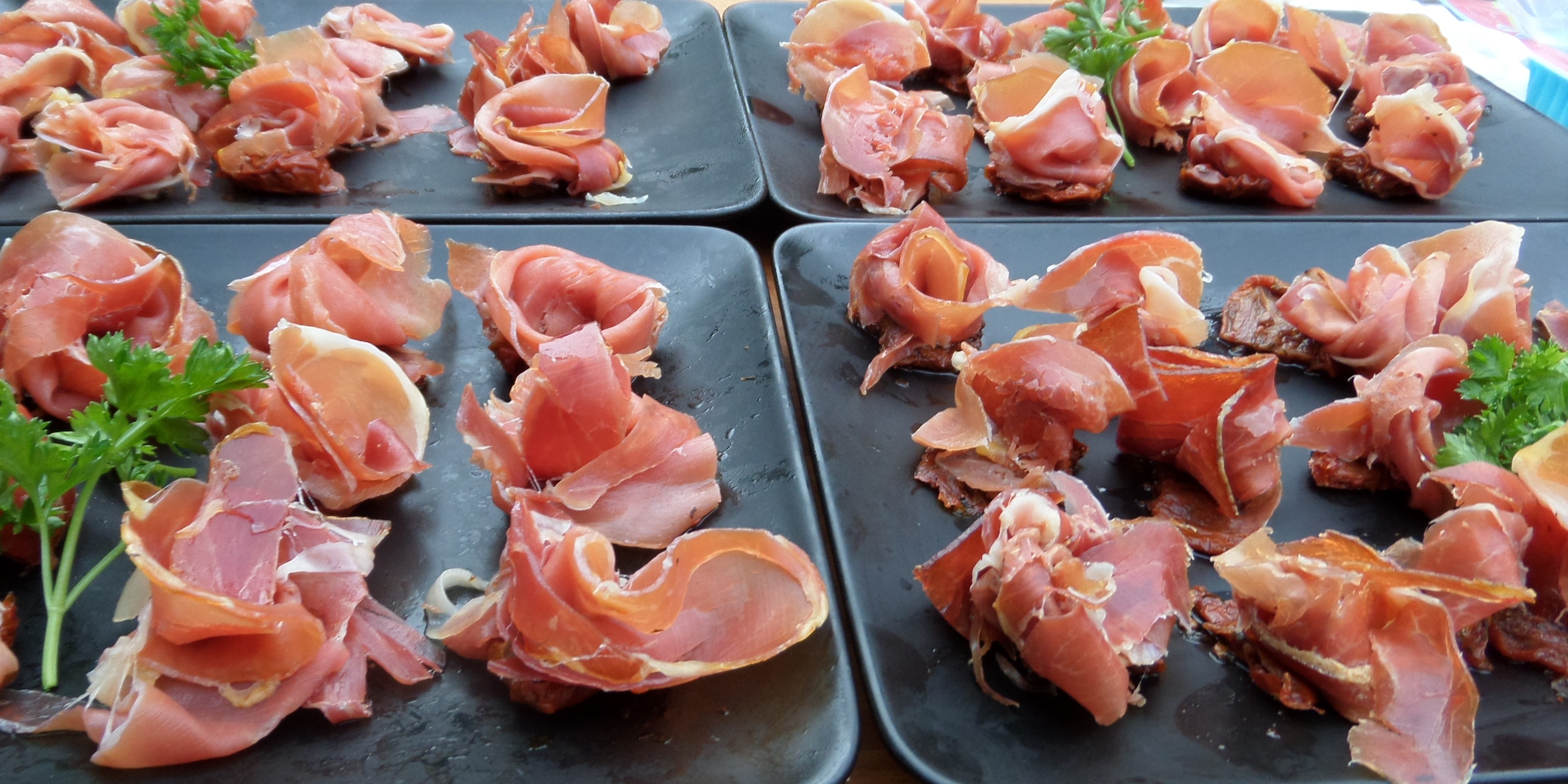 The Spanish way of eating out is having some tapas in combination with a nice glass of wine, sangria or cava. It is a social event, where these often local delicacies, are passed on by friends having fun and enjoying a good conversation. Tapas can be hot and cold. Here is a list of tapas to pick for a great fiesta.
1 Tabla de Ibericos.
Spoil your guests with a nice board of chorizos, dried loin of pork and other nice types of cold sausages and salted dry cured meat.
2 Pimientos padron.
Simply fry the little green peppers in some olive oil. Careful, that you don´t overcook them. Sprinkle some sea salt over them and they are ready to go.
3 Jamon serrano con tomates secos.
Did you know that sundried tomatoes go very well with the serrano ham? You can make wraps or cut them in slices and serve them with some nice slices of ham.
4 Delicias de Elche
Also known as dades wrapped in bacon. Wrap the dades in bacon and cook them in the oven until the bacon is crispy. Don´t forget to turn urn them around, the bottom has to be crispy as well.
5 Boquerones al vinagre.
Boquerones are part of the herring family. You can buy them already marinated in the supermarket.
6 Chorizos a la cidra.
I always use mini or party chorizos. Cook them slowly, with some fine chopped onions and garlic, add some tomato paste and Asturian cider of course. Let them simmer for 30 minutes and add some red pepper stripes and chopped parsley to give the dish some colour.
7 Albondigas de la abuela.
Grandmothers meatballs in a red wine and tomato sauce. You could use some minced lamb as well to give this dish a different taste.
8 Cetas con ajos tiernos.
Mixed mushrooms with wild garlic. You can buy them already cut and washed in the supermarket. Place them on a oven tray, ad some pepper and salt, fine chopped onions and garlic, a splash of white wine and let them cook for 10 a 15 minutes. Suitable and very appreciated by vegetarian or vegan guests.
9 Patatas bravas.
Deep fried potato cubes with a spicy tomato sauce. Also a dish your vegetarian guests will love.
10 Pinchos morunos.
Pinchos morunos are a welcome addition of spice and excitement to tapas menus all around Spain. Little savoury pork skewers marinated in cumin, coriander, paprika, oregano, black pepper, turmeric, lemon juice and fresh garlic.
Who are we and what can we do for you?
We can prepare and deliver all the above dishes for you.
Please feel free to check out our website: http://costablancapartyservices.com , our facebook page: https://www.facebook.com/cbpartyandeventsservices ,or just call us on 0034 689237235.
Enjoy!!
Chef Bob
---
---